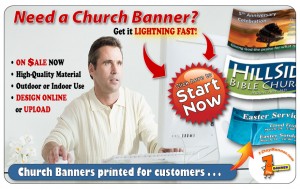 Have you seen a church banner or sign every time you passed a church? Signs and banners are common in our everyday lives, but did you know that it offers more than just a statement from the Church. Here are some of the uses of these signs for the religious community.
These banners are placed outside of churches to inform the word of the Lord to passer-bys no matter how young, old or unreligious they are. These are made by church parishioners to attract people to enter the Church and get in touch with the divine power. Personalized church signs may contain bible verses, words of encouragement, and a simply insight. Most effective church signs contain a message that focuses on a person's emptiness from within.
Custom church banners can also be used to promote an important Church event. It could be Lent, Advent, Christmas, Easter or outreach and feeding programs. These important notices can update active church worshipers for such important event and also attract non-believers to participate with these events and hopefully became a believer.
Lastly, Church signs can be important notices of important Church occasions like weddings, baptisms and funerals. These notices can inform locals to attend to the upcoming occasion, and also promote people to do these important events in the church.
The reason why parishioners invest in one of these is because it is cheaper than other advertising media. A person can simply go to a sign maker, choose the sign layout that he wants and the message to be placed. When the sign is completed, parishioners can put it outside at day and store it at night. The sign can be used even after many years as long as it is taken care of properly.
Church banners and signs are effective media to declare the love and message of God through other people. Next time you passed one, remember not to laugh and instead keep your mouth shut in respect to the Church.