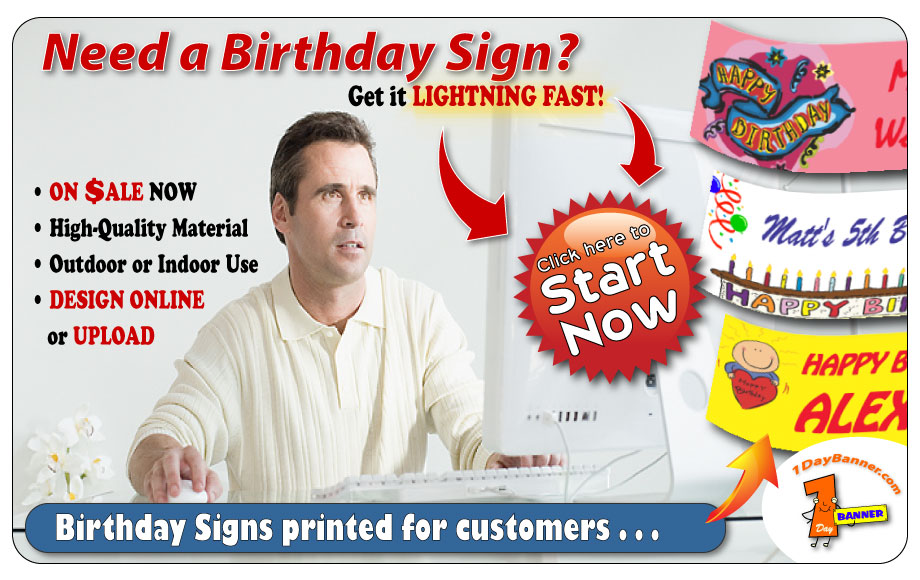 Are you planning to buy happy birthday signs for the members of your family? If so, then you are making the right decision. Nothing makes birthdays more special than by hanging this type of signage.
Birthdays are special because it marks the day when you first officially entered this world. As you grow older, the years remaining in a person's life gets shorter. Besides, birthdays only happen once in a year. What would be a better way to celebrate life and value a person than to celebrate their birthday? If you are the type of person that wants to make a family member's birthday party special, then acquiring a birthday sign is a good party investment.
First of all, these signs can make the party ambiance more engaging. It will instantly lift the celebrant's mood, and it can also be a good background for family photos. In addition, you can usually get them fairly cheap.
Second, vinyl birthday signage can be used again and again. The trick to make them last is to roll and store them in a container and clean them using only soap and water. If it is stored properly, then it can be recycled for the celebrant's next birthday. Each family members can have their own or they can have a generic one printed for all of the family members to use.
Third, if you are planning for a personalized birthday sign then the celebrant can keep it as a birthday memorabilia. The person might not recycle it for the next year but he can keep it and show it to his friends or future family as the reminder of that year. They can be used on the person's first birthday, 21th, 30th, 40th, 50th birthday and so on.
Get a custom happy birthday sign for your loved one to show that you really care for him. Even if it is cheap and simple, the thought will be truly appreciated and remembered for a lifetime.
A person's birthday happens only once a year. That is why every effort should be made to make that person feel that their day is special. Sure cakes, gift and greeting cards would stir up a warm feeling inside of them but everyone should know that a person's birthday belongs to them. Nothing does this better than birthday signs hung on walls.
These lawn, yard or indoor signs don't just greet the person on his or her birthday, its underlying use is to inform everyone that the day belongs to the person celebrating their birthday and it should be made special. The best way to do this is to have a design that the birthday celebrant can relate to. It should show his personality. Motifs like their favorite sports team, past time or even their favorite television show or movie should be incorporated into the design. The bottom line is that dit should be customize to mirror the celebrant's personality. This makes it even more unique and special. It should also be clear enough showing photos and letter of high printable quality. Like I mentioned earlier, birthdays happen once every year so it would be great if they are durable enough to last another year in storage. Proper safekeeping should be done to achieve this so that they can be hung again the next year.
So there you have it, another way to make a birthday extra special. Order a happy birthday sign online and gift that special day to all your love ones who are celebrating their birthdays.