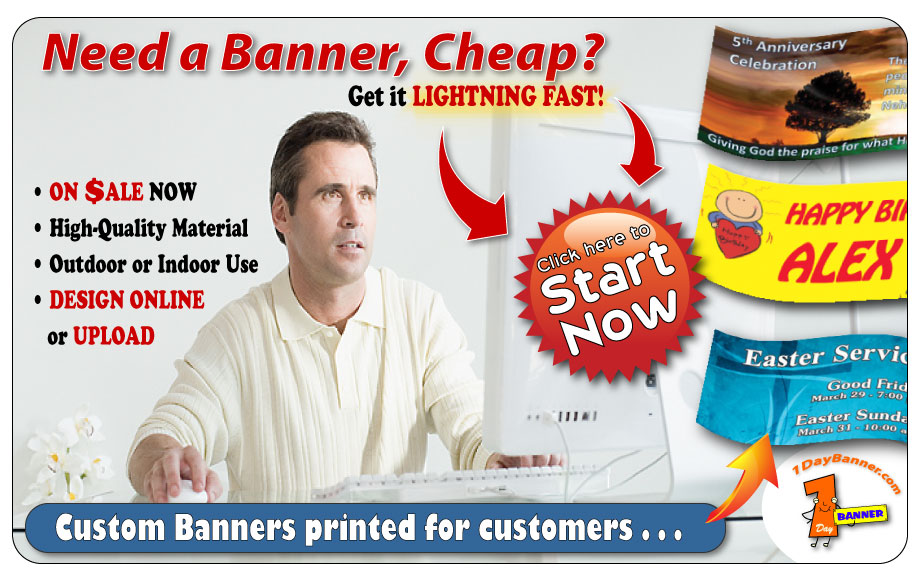 With the advent of different marketing tools and solutions, cheap banners are perfect for businesses that are looking for economical ways to promote their products and services. They are one of the best money-saving marketing tools currently available. Their popularity is attributed to the many advantages that they offer to users. Why should you buy banners on the cheap?
1. Cheap price: This is a given advantage. The material is less expensive than other sign materials like fabric.
2. Easy Maintenance: If dirt accumulates, it can be easily cleaned. A small cloth with water or cleanser will instantly do the task.
3. More Visual Clarity:
in full color, hence, it will have good visibility even from a far distance.
4. Double Sided Printing: If you are really budget-conscious, you will appreciate the fact that vinyl banners are available double sided. Hence, you can promote on both sides – even using different messages.
5. Weather Resistant: Like many other vinyl products, they can withstand rain and heat. It will take a few years of exposure to water and sun before it fades out, cracks or becomes damaged.
6. Durability: Based on its resistance to adverse conditions, you will find that signage made of vinyl is durable and will sustain many years of use before needing replacement.
The advantages of buying a banner on the cheap is not only for businesses. Other entities such as organizations and even individuals can benefit from these them. They can be used to highlight special events in your family.
Attracting many customers
A banner sign is an effective marketing strategy for businesses and entrepreneurs to advertise their products and services. Due to their handiness, various usage and inexpensive rates, they are considered the wisest way to promote an enterprise. When properly made and placed in a good location, it can attract more customers and make huge profits. It is therefore important to place not only the product but also the contact details so that people will know where to go. Cheap signs are more economical and the smart businessman will always go for it.
If you're interested in cheap banner printing, you should order vinyl materials because they are inexpensive, strong and durable. They can weather any climate and will not wilt or break. Make sure you use fonts that are readable and attractive colors that mesh or blend well with one another. The image you add should also be eye-catching so that the people's interest and curiosity will be aroused. Your banner should be creatively-made despite its cheap material.
The location of does play a vital role. You have to place it in busy neighborhood streets and frequented roads. Place it in other conspicuous areas so that they will be seen by prospective clients. Your signage is said to be the face of your business so you have to make it appealing to the public.
Advertising can be both expensive and inexpensive. Investing in cheap banners will also attract clients as long as they are appealingly made and placed in noticeable locations.