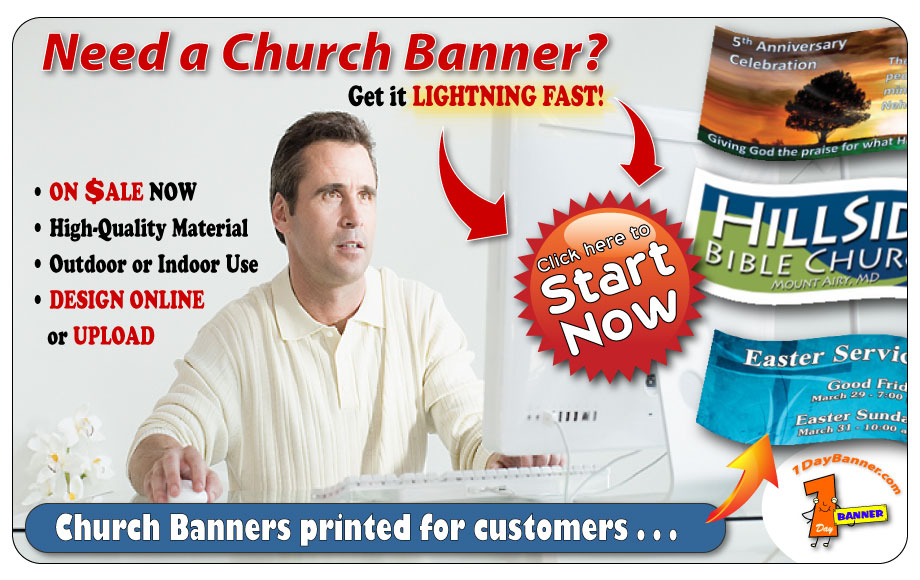 If there is one weekly gathering that many people frequent, it is the Sunday mass in churches. Here, people are united in hearing religious and spiritual stories and lectures. They also get the chance to mingle with strangers and make new friends.
The church gives a venue for people to pray with one another and participate in activities such as fund-raising events and Bible-reading sessions. To get the attention of people to attend mass and to join in church activities, it is ideal to create church banners.
These banners are hung outside of the church so that worshippers and passersby will be informed of any announcement. Churches always use banners to advertise or promote their activities and to remind the people of God's teachings. Christians and Catholics are among the religions that take advantage of such signage because they last long and are a relatively cheap advertising medium. Church banners are often made of vinyl materials because they are sturdy. When hung outside, they can withstand humidity, wetness and even a windy weather.
The church also has various celebrations throughout the year such as Christmas, Easter, New Year and Baptism events. During Christmas, attractive banners are made to celebrate this joyful and colorful season. The banners will make the occasion more festive with the Christmas colors mixed and matched beautifully. An image of Santa Claus carrying gifts will attract children, adolescents and adults. It will entice them to participate actively in the church's worship events for the season.
Church banners are a good way to invite people to enter the Holy House and be united with other people in praying and celebrating the word of God.