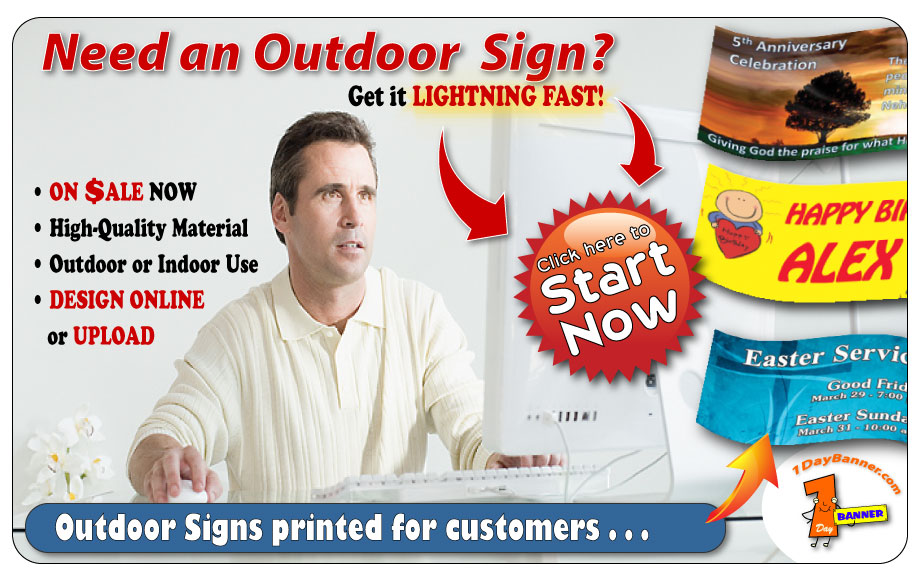 Are you planning to purchase customized outdoor signs for your business? Are you unsure where to order one? If the answer is yes, then don't fret. Here is your basic guide on how to get the signage you need for your business.
"Thinking outside of the box"… this phrase just means being creative, business owners usually have this kind of thinking when it comes to advertising. They advertise online, through newspaper ads, radio or even television ads. But many of them focus on the most affordable and effective way of advertising.
Outdoor banners or signs are the ads we see when we go outside the comfort of our own home or office. Some types of signs are billboards, posters, banners, paintings, frames, bulletins, etc. These forms of advertising help retain recognition of the products being advertised, If people go out of their house they are willing to do something. And when they see outdoor advertisement it may remind them of the things they need to do or to get.
These signs are not just helpful for advertisers but as a guide to people too. They are not just created for advertising products; some are printed for providing direction.
Have you seen a large outdoor sign advertising an event or product as you drive on the road? They might look unnecessary for business beginners, but actually are a great asset to have. Here are some great reasons why you should purchase some.
– They can attract customers easily. Of course, you can rely on your indoor banners if you have any but these are not too readily visible from the outside which means that they don't attract people on the streets.
– They are highly visible. If you have these in the front of your store or shop, you can entice people wandering on the streets to come inside and buy some of your products.
– They are made to last. Outdoor signs have durable and weather proof characteristics which are why they don't fade and tear easily even if they are outside for a long time.
– They can be custom-made. There are outdoor signs that are general in nature such as the "Sale" signs, "Open" signs and "Buy Here" signs, but what catches the people's attention are the custom-made signs. These are much better than the general ones because you can freely request any message, photo or background to be placed on your banner.
An outdoor sign is valuable because you can endorse your products for as long as you want. You pay for it once and the rewards just keep coming.